Amitabh Kant on New Delhi Leaders Declaration
Reacting to the adoption of the New Delhi Leaders Declaration, India's G20 Sherpa Amitabh Kant said, "The New Delhi Leaders Declaration has been officially adopted at the G20 India Leaders' Summit! Today's era must be marked as the golden age of human-centric globalisation & India's G20 Presidency under the leadership of PM Modi has worked tirelessly towards this goal."
The #NewDelhiLeadersDeclaration has been officially adopted at the #G20India Leaders' Summit! Today's era must be marked as the golden age of human-centric globalisation & India's G20 Presidency under the leadership of PM @narendramodi has worked tirelessly towards this goal

— Amitabh Kant (@amitabhk87) September 9, 2023
Related Articles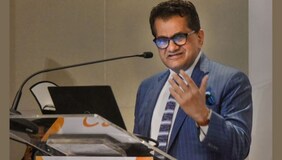 India will put forth voice of Global South, wrap up inclusive, action-oriented G20 presidency: Kant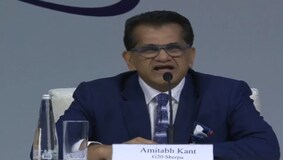 G20 declaration will reflect strong voice for Global South, developing countries, says Sherpa Amitabh Kant
At the second session of the G20 Summit 'One Family', Prime Minister Narendra Modi said the G20 has adopted the New Delhi Leaders Summit Declaration and a consensus had been reached among member states.
"I have received good news. Due to the hard work of our team, consensus has been built on New Delhi G20 Leaders' Summit declaration. My proposal is to adopt this leadership declaration," Modi said.
He added, "I announce to adopt this declaration. On this occasion, I congratulate my Sherpa, ministers, who worked hard for it and made it possible…"
Highlighting the feat of India's G20 Presidency, Kant said, "India's G20 Presidency has been inclusive, ambitious, decisive, action-oriented & unafraid to challenge the status quo. Under PM Modi we have given a strong call to action for the leaders to take G20 to the last mile. New Delhi Leaders Declaration G20 India."
"G20India has been the MOST ambitious in the history of G20 presidencies. With 112 outcomes and presidency documents, we have more than tripled the substantive work from previous presidencies," the G20 Sherpa added on X, formerly Twitter. 




Images are for reference only.Images and contents gathered automatic from google or 3rd party sources.All rights on the images and contents are with their legal original owners.
Aggregated From –