First step in the world of Entertainment – BA / PGD in Film, TV and Web Series
By Gauri Durga Chakraborty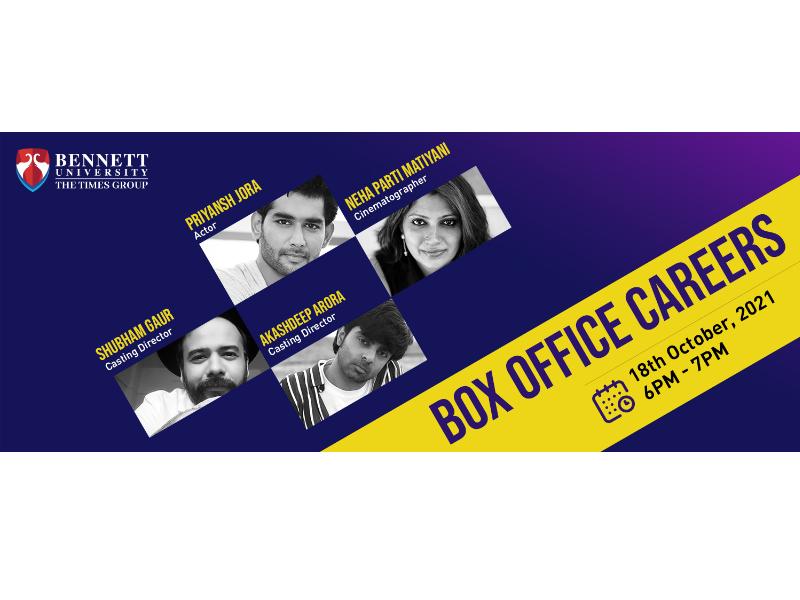 India is poised to be the Media and Entertainment powerhouse of the future with a projected increase at a double-digit growth of 13.5 % (CAGR) during the period 2019 to 2024. The shift to a digital way of life during the pandemic has further accelerated this growth. According to the FICCI-EY report for 2021, M&E business is estimated to grow 25% to reach INR 1.73 trillion this year.
The growing intersection of smart telephony, immersive experiences and niche entertainment formats are here to stay. The diverse, vibrant and dynamic market seeking to maximize reach and monetize the 'slice in the pie' is in dire need of the correct skill set to drive the growth and catalyze the market with fresh and unique ideas. The signs are evident – rise in digital consumption, interest of major international studios, transnational tie-ups and focus on local, regional and pan national content. With the reasonable success and acceptance of non-theatrical digital releases finding initial 'digital footfalls' during last two years, the possibilities for alternate exhibition structures will considerably add to democratization of content – creation and consumption.
As old and new players, traditional production houses and global corporate giants in the creative industries tap on this potential, the need of skilled and 'industry ready' young professionals are on the rise. From screenwriters, cinematographers, sound engineers, costume designers, dialect coaches, editors, animation experts et al– the requirement of talent with training is apparent. The industry also acknowledges new proficiencies and sub specializations like food stylists, intimacy directors, child artist handlers, hand make-up artists among many other unique professions.
Congratulations!
You have successfully cast your vote
Unlike the largely apprenticeship model of entering the industry till a few decades ago, where exposure and training were not time bound, the current expansion necessitates institutionalized training from top industry experts and practitioners in conjunction with academic structures. Bennett University's Times School of Media has launched the most comprehensive BA and PGD (Post Graduate Diploma) program in Films, Television and Web Series to address the need to training young professionals in the field.
Film education now requires teaching the craft of storytelling with sound understanding and learning of existing and emerging technology. The curriculum designed at Times School of Media is designed by industry experts from Junglee Pictures, MX Player and TimesNow which brings in the most current and contemporary practices on the learner's graph creating innumerable possibilities to enter the M&E domain. The overall understanding of film crew hierarchies, team coordination and optimization of resources is a highlight of these film making programs at Bennett University.
Institutions that understand the practice in the context of a changing media and entertainment landscape will best deliver such training pedagogies. The film programs at Bennett University facilitate interaction with topmost practitioners, which expands understanding of the ever-changing trends of consumption, and inculcates the ability to innovate platform agnostic content.
A promising backdrop of growth and opportunities await content creators. The entrants today will be the leaders of tomorrow. This is the right time to celebrate talent, technique and most importantly training for the creative industries in a digital world! Are you ready? To help students understand careers in Film, TC and Web Series and formal education options for the same, we are starting a talk show from 18 October.
Register Now for personalised advice
(The writer is Professor in Times School of Media, Bennett University.)
Disclaimer: Content Produced by Bennett University


Images are for reference only.Images and contents gathered automatic from google or 3rd party sources.All rights on the images and contents are with their original owners.
Aggregated From –
Follow Chetas Foundation
Follow this NGO if you are interested in Smart cities,Good Governance,Defending Nation,Cyber Security.If you have anything to do with anyone who works for the government at any level, You should follow this NGO.
Opsec Research
Follow this think tank if you work, know or interested in working and knowing about all the international, transnational and global governance,diplomatic relations,world peace and security.
Follow Pune Media
Follow Pune Media for their latest positive coverage,breaking news,polls and much more.
Follow Khumaer Bayas
Follow this account if you want to get the glimpses of things to come, watch interactions with movers and shakers of the world. and in general be updated on issues like #natsec,#opsec,#intsec,#intelissexy the account is followed by few but professional organizations and personnel.